Welcome to Kidron Volleyball!


Tryouts for 2017 Season
Tryouts for the 2017 J.O. season will take place in October and November. To preregister for tryouts, please click here.

For players aged 12 through 14, tryouts will take place on Sunday, October 30th. Tentative tryout times for 12 and 13 year olds will be 2 to 4PM. 14 year olds will tryout from 4 to 6PM.

On November 13th, players aged 15 through 18 will tryout. Tryouts for 15 and 16 year olds will be from 2 to 4PM, and 17 and 18 year olds will tryout from 4 to 6PM.

All tryouts will take place at Triway High School.

Please watch your email or check the website for additional details as the dates approach.

We look forward to seeing everyone!
Crawford to Succeed Finn as Club Director


The Kidron Volleyball Club is pleased to announce the appointment of Mike Crawford as director, effective July 1, 2016. He will succeed John Finn, who served as club director since its founding in 2007.

Crawford is a former player and a very well respected volleyball coach. He was also a standout soccer player and currently serves as the assistant coach of the boys soccer team at Wooster High School. He has been a coach at Kidron for the past four years. Prior to that, he coached at Wooster Elite for four years.

Finn helped to found the club in 2007. He plans to continue coaching J.O. at Kidron and high school at Triway. "It has been very rewarding to be a part of this club for the last 10 years," said Finn. "I believe we have helped hundreds of girls develop their volleyball skills and raise the overall caliber of play in Wayne County during the past decade."

Jay Haver, who played a role in founding the club, will stay on as chief financial officer and administrator. "Jay has done a phenomenal job during the past decade," said Finn. "His tireless efforts, his keen insight, and his invaluable wisdom have been a guiding light for this club. We are delighted that he will remain on in this position."

As for the appointment of Crawford, Finn said, "Mike is the ideal candidate for the position. He is extremely knowledgeable and exceptionally organized. He has an outstanding work ethic, excellent people skills, and an imaginative vision for the club. He also is an excellent leader and will take the club to new heights in the years to come."

Crawford expressed excitement and enthusiasm for his role as club director. "I am humbled and tremendously honored that John trusts me to take over the club as its next director," he said, "John has assured me he will be there to help as I get acclimated to my new role, but I look forward to the challenge, and am excited to work with Jay and all the coaches in the coming seasons."

Tournament Information and Directions
Information regarding tournaments can be accessed from the Ohio Valley Region website (
www.ovr.org
). To retrieve information about an upcoming tournament, please
click here
, and then provide the relevant criteria. Once you have located your tournament, click the Players' Info link to retrieve all the details, including starting times and directions.
Sportsmanship Statement


The Kidron Volleyball Club is committed to the very highest standards of sportsmanship for players, coaches, parents, family members and friends. Disrespect and negative criticism of officials, teammates, opponents, opponents' coaches, parents and others is entirely unacceptable. We (players, parents, and coaches) all represent the club, so let's be sure to do so in an honorable, dignified, graceful, and respectful manner.
Bad Weather and Practices

As a reminder, when the weather is bad, please never take risks if you are not comfortable with the driving conditions.
If you have any questions, please feel free to contact John Finn at
jfinn@wooster.edu
.
Thank you!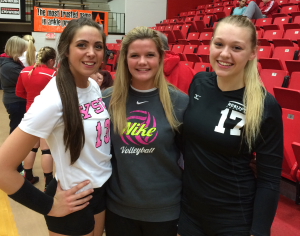 Former Kidron Volleyball Club standouts (from left) Sarah Varcolla (Youngstown State), Tori Leskovyansky (Walsh University), and Sydney Mast (Cleveland State) reunite during a match between Youngstown State and Cleveland State on Oct. 30.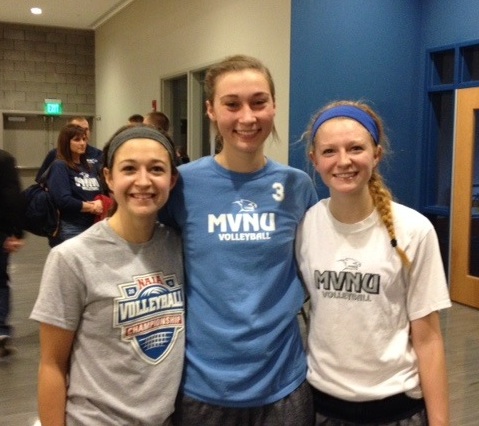 Former Kidron Volleyball Club standouts Marlowe Beatty, Alyson Near, and Carolyn Beatty helped to lead Mount Vernon Nazarene University to the national tournament.
<!-Weather in Kidron, United States on your site - HTML code - weatherforecastmap.com -->