| | |
| --- | --- |
| Team | Coach |
| | Melissa Rodhe |
| | Jodi Shilling |
| | Susan Pike |
| | John Finn |
| | Jodi Shilling |
| | Shanna Hildebrandt |
| | Heather Steiner |
| | Catherine Benton & Erica Skillman |
| | Megan Kelly |
| | Jessica Crawford |
| | Kirk Miller |
| | Sandy Mullet |
| | Molly Sipos |
| | Jill Gerber & Allison Hostetler |
| | Susan Burnett |
| | John Finn |
Kidron Volleyball Club Goes Global

The Kidron Volleyball Club, with the help of a generous donation, recently donated shirts and balls to Kotido S.S. School in Uganda. Prior to the donation, there were no shirts and just one ball for more than 100 young students. KVBC donated 100 shirts and 25 balls for a clinic run by former Central Christian player and Kidron Volleyball Club coach Annali Murray (center, photo below).

Here is a report from Annali:

"The volleyball clinic was exceptionally well received. Both the athletic director of Kotido S.S. and the Headmaster were absolutely thrilled by what you and your club did for the girls at Kotido S.S. From 8:00-11:00 Alisa (Murray) and I ran drills and practiced some fundamentals. We also had a short scrimmage time at the end.

I am sure that Kotido S.S. has never had such an interest taken in their volleyball department. I know your gift of volleyballs will have an impact on their school for many years.

Following the training, some of the girls came up to me and asked me where they should put the shirts. When I told them they could keep them and use them as jerseys they literally began jumping around screaming and dancing. I wish you could have been there to see how excited they were." (From The Daily Record, 7/15/12)
Annali Murray leads a practice session at Kotido S.S., Uganda, June 2012
Incredible in Indianapolis:
18 Orange Finishes 3rd in 76-Team Qualifier
Kidron's 18-Orange team turned in a sensational performance at the Mideast Qualifier in Indianapolis March 23-25, finishing third in the 76-team tournament, which was held at the Indianapolis Convention Center. The team defeated opponents from New Mexico, Colorado, Illinois, and elsewhere while posting a 7-3 overall record and advancing to the semi-finals. Middle hitters Lori Inkrott and Audrey Metzger were outstanding in leading the attack. Outsides Kenzie McFarlin, Maggie Johnson and Rachel Knetzer were also outstanding, as were setter Tessa Brooks, libero Marlowe Beatty, and outside/rightside Hannah Fetzer.

Third-Place Finishers (Front Row, from left): Maggie Johnson, Marlowe Beatty, and Tessa Brooks. (Back Row, from left): Lori Inkrott, Audrey Metzger, Kenzie McFarlin, Hannah Fetzer, Rachel Knetzer, and Head Coach John Finn.

Kidron Volleyball Hosts Tournament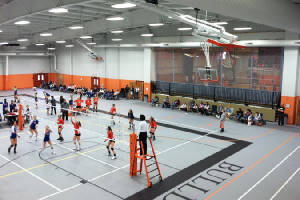 The Dalton Athletic Complex played host to its first volleyball tournament on Sunday, March 18th.
Kidron Volleyball, in conjunction with Dalton High School, played host to a 12 Team, 15R tournament on Sunday, March 18
th
. Teams from as far away as Avon Lake and Coshocton participated. The tournament also included three Kidron teams. Nearly 120 participants and over 300 spectators were in attendance for the all-day event held at the newly constructed Dalton Athletic Complex, located at Dalton High School. The facility is used by KVBC on a regular basis for practice, but this was the first opportunity Dalton Local Schools has had to host a tournament in the facility. Kidron's 15 Orange team took top honors.